If you're looking to revamp and upgrade your 1947-1953 Advance Design Classic truck with parts that do it justice but you find nothing but mass-produced, stainless-steel pieces, then LS Fabrication Ltd. can help. We're Kris Hauser and Chris Lange, two friends and fellow vehicle-restoration contributors and the founders of LS Fabrication.

We found ourselves without options while reviving Kris' 1951 classic Chevy/GM 3100. However, when we put our combined knowledge and engineering know-how to work, we created the custom Chevy truck parts we were looking for and discovered a wide audience of like-minded vehicle owners.

With billet-milled 6061 aluminum custom parts, which include a 47-53 speaker grille and glove box door, a cab-spanning phantom-style dash, and a Chevy truck double din dash that brings nav and sound systems up to date, Advance Design Chevy truck owners can get a quality centre piece for the interior of their classic truck.

Taking It to the Next Level

So, there you are. You've spent years and piles of dollars in turning your classic Chevy/GM Advance Design pickup into a worthy vehicle for the modern road.

At this stage of the project, your late-'40s to early-'50s powerhouse, designed as a working machine of the day, now has your carefully selected features. Maybe your dream project still has the original 3100 inline-six, or it now sports a modded 350 V-8 with a modern fuel injection under the hood. It has all five windows, bead-rolled kick and door panels, and a custom firewall and upgraded suspension with precision welding.

Of course, it's hard to find a quality 47-53 billet dash replacement that makes a statement and sets off the Chevys classic cab. The only things available are production-line stamped replacements with painted-on lettering and a vestigial finish. These sort of products are not to the same level of detail or quality as many builders are putting into their build.

47-54 Custom Chevy Truck Parts

Having a well-crafted dash that delivers on the exterior promise makes a strong first impression for anyone coming in the door. The dash is the centerpiece. Your truck's wheelhouse.

The original Advance Design trucks were a step up from the earlier art deco design and included the added feature of a widened cab, big enough to seat three. Displacement of the gear shift from the floor to the steering column also opened up the floor and created a sense of spaciousness. This is a truck that needs to make a statement.

A CNC-machined dash replacement, faithful to the original and purpose-built by dedicated craftsmen, adds the final finish without betraying the truck's original design. Whether your truck restoration is best suited by a factory-reproduction Chevy truck billet glove box and speaker grille or a sweeping phantom-style dash that spans the width of the cab, precision-machined custom Chevy truck parts are the final touch that completes the vision.

Custom 47-53 Glove Box Door & Speaker Grille

These replacements are CNC-machined from 6061 billet aluminum. They aren't run-of-the-mill parts stamped and with painted script or details. Billet-machined parts are superior to stamped in appearance, sturdy design, and individual craftsmanship. In addition to a machined finish, the Chevy truck speaker grille cover has a deleted ashtray for an updated look. Also, our machined dash pieces can include custom engraving for an additional charge. this gives you a truly one of custom touch in your classic Chevy truck.

The package's replacement parts include a factory-reproduction billet glove box door and billet speaker grille, which match original factory mounting exactly, and all necessary stainless steel hardware. It includes a latch for the door as well. These pieces also currently represent the only option for replacing right-hand dashes in Australia and New Zealand.

Custom 47-53 Chevy Truck Double Din Dash

If you're going for a more modern design that takes the original center-dash radio placement and brings it down for a more comprehensive double din setup for touch screens or GPS navs, this panel will accommodate.

The replacement package includes a 6061-aluminum billet-milled 47-53 glove box door and a specially formatted double din speaker grille. It also comes with a Pioneer ADT-VA133 installation kit for double din receivers, a stainless-steel glove box latch by LS Fab, and all required hardware.

Custom 47-53 Phantom Billet Dash

This is a complete array of parts that spans the dash from end to end. The Chevy billet dash has the distinctive horizontal lines found in phantom styling. Along with the double-pane windshield and characteristic center post, the view is almost reminiscent of the classic DC3 workhorse of the skies from the 1940s. It's an impressive display of gauges, speaker grille, and a glove box that just speaks style the minute you climb in.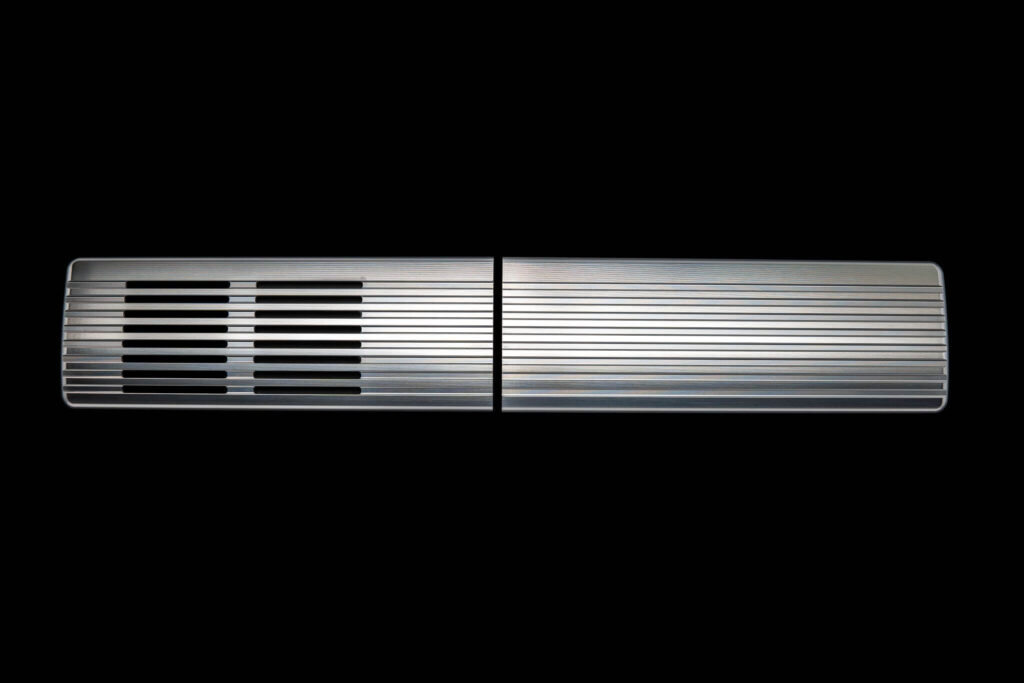 The CNC-machined 47-53 billet dash is also fashioned with a machined finish from sturdy 6061 aluminum billet. There is no ashtray in the extended speaker grille. Our dash also includes a driver-side dash piece and a gauge split piece that covers the indent created by the factory-original offset column. This dash arrangement will require a drop column.

The set includes all installation hardware, along with a stainless-steel glove box latch. However, the two new pieces on the left side will require four holes drilled in the dash. Complete templates and instructions will assist with installation.

Easy Installation

Both the Chevy truck billet glove box and billet speaker grille installation and the Chevy billet dash installation come with comprehensive step-by-step instructions and photographed imagery to ensure the process is successful. As always, each package also includes all necessary hardware to make installation quite simple to do.

Installation for the 47-53 Speaker Grille and Glove Box Door Set

These instructions should help you get a perfect fit and a finished look.

Hardware Installation

– Remove the speaker grille and flip to see the reverse side.
– Remove the supplied hardware from its bag.
– Use the Allen keys, also supplied, to thread the #8 stainless-steel studs into the grille's four corners.

Speaker Grille Installation

– Install the new grille in the original existing holes.
– Allow the studs to slide into the holes while taking care not to scratch the dash.
– Reach behind the placed grille to finger-tight thread the provided #8 nuts.
– While there is room for adjustment still, the best time to check is after installing the glove box.

Glove Box Installation

Caution: This is a delicate operation. Take care when closing the door to the glove box to keep track of the top portion of the latch.

– Transition to the truck's glove box.
– Hold the billet glove box door in the position of "open."
– Move the hinges to the mounting holes.
– Carefully thread the #8 3/8-inch screws with a Phillips-head screwdriver.
– While noting the available hinge adjustment, begin at the lowest possible position before tightening.
– Carefully inspect all painted areas before slowly closing the door.
– Avoid any rubbing, binding, or any contact with the dash surfaces.
– Make hinge adjustments up and down or in and out or left and right to resolve issues.
– Be sure to check latch clearance while carefully closing the door. The latch passes very close to the top of the door and may need adjustment to keep clear.
– Once you resolve any door rubbing or binding issues, set the speaker grille alignment to match the level of the glove box. Get a seamless appearance by adjusting the Chevy truck speaker grille left and right or up and down.
– The glove box adjustment uses eight screws in total to achieve alignment.
– Once again, take extra caution whenever closing the glove box to look for any misalignment or rubbing.
– With alignment at just the right spot, proceed with hardware tightening and fingerprint and tape removal.

Though there are differences between each truck, rest assured that some patient execution and use of supplied references and pictures will have the pieces installed nicely in a minimum amount of time.

Our team is also ready to resolve any issues you have. If at any time you have concerns or questions, contact us at [email protected] or at (587) 830-5747 for a direct consultation.

Installation for the 47-53 Phantom Billet Dash

Our instructions should help you get a perfect fit. Again, deliberate progress and reference to the images will have the process completed in due time. Also, be sure to use the installation templates provided for the phantom billet dash at https://lsfab.com/47-54-custom-chevy-truck-parts/47-53-chevy-truck-phantom-billet-dash/.

Hardware Installation

The two phantom gauge pieces come with a set of two 1-inch #8 set screws and a set of two flange nuts for each piece. Our gauge piece needs a top and middle set screw while the piece surrounding the light switch requires a bottom and top set screw.

Installation Templates

– After printing, check the print size by measuring the 4-inch and 6-inch scale lines on the page.
– Take care when cutting out templates 1 and 2.
– Use template 1 first and template 2 second.

Template 1

Template 1 guides the placement of a crosshair made with masking tape over the left-side gauge to ensure that template 2 aligns perfectly.

– After cutting out the gauge circles, align them with the gauge holes on the dash piece.
– Hold the circles in place with a small length of tape.
– Construct crosshairs horizontally and vertically. Have an outside edge intersect for both directions at the template's center point. The center should be about 2.6 inches from both sides.
– Avoid curving or curling the tape.
– The template can stay on, or you can take it off, leaving the tape behind.

Template 2

Template 2 determines the hole placement for the phantom dash pieces.

– Hold and adjust the paper with a small length of attached tape.
– Align the horizontal and vertical lines exactly with the taped crosshairs.
– With the set screws inserted in the phantom dash pieces, verify the pieces' correct placement.
– Start drilled holes using a ¼-inch bit.
– Graduate in size while verifying fitment. Larger holes mean more adjustability. Holes will need to be greater than three-eighths, however. To permit bottom-center-hole drilling on completed trucks, the steering column will need to drop somewhat.
– Use a Q-tip to apply a copper coat or a bit of paint to complete holes made in pre-painted dashes.
– Installation of the phantom dash pieces uses the provided #8 flange nuts. Be sure of placement before tightening.

Again, if you find concerns or have questions, we're always here to help at [email protected] or on the phone at (587) 830-5747.

Send us your photos, too, of the newly installed phantom dash! Of course, we hope that everything from ordering and shipping time to your new Chevy billet dash installation went exceedingly well.

We're vehicle owners, also looking for worthy Chevy truck parts. We decided to put our skills to the task of creating the best parts available. LS Fab's mission is to provide the products that dedicated restoration practitioners need. Our customers concur.

Tim Johnson, a verified owner, added one more to a list of five-star reviews:

"Kris and the people at LS fab cannot be any easier to work with. I had a special request on some door panels, and they came through spectacularly!!! I have now purchased the dash (which they again did a custom engraving for me), the door panels, and Kris is going out of his way for a new special project for me. The product they produce is second to none. Unbelievable service and quality. I'm a customer for life."

David Cormier said:

"The LS Fab guys are awesome, and this dash is just one example of why. … I just installed my Billet Dash, and it is easily my favorite piece on the truck so far. The fit is perfect, and the look is absolutely insane. …These pieces are jaw-dropping out of the box, and installation is a breeze. Just leave the middle dash piece loose until your glove box door is mounted to make sure they line up and then tighten away. Great job guys, and great piece!"

A Chevy Classic

The 1947-1953 Chevy/GM Advance Design truck is an enduring classic that's finding a new life on the modern road using billet-crafted custom parts that merit their incorporation. We're here to provide a much-needed alternative to the standard mass-production material out there that's nothing if not a disappointment. We are here to make things happen.

47-54 Custom Chevy Truck Parts by People Who Know

LS Fabrication Ltd. is owned by Kris Hauser and Chris Lange, two friends who established LS Fab in 2018 when looking for those same options and finding none.

Kris Hauser, when building out his 1951 Chevy truck 3100, knew what he wanted for a firewall. With no one willing or able to step up, Kris dropped off his truck with a talented friend, Chris Lange, who owned a bead roller.

In short, the results far exceeded expectations. After sharing the photos of the bead-rolled firewall on Kris' Chevy truck, Kris and Chris discovered there was more than a little demand for these custom-created Chevy truck parts and decided to go into business.

Their parts line expanded into other eras and other applications and processes beyond bead rolling, including high-end billet aluminum machining. At LS Fabrication, we now send hundreds of shipments around the world.

Give Us a Call

At LS Fabrication Ltd., we're dedicated to developing and creating the best products and filling voids in demand where the right parts for the right vehicles either don't exist or don't exhibit the quality needed for discerning vehicle owners in the industry.

We'd like to thank everyone personally who has helped us and supported us in our journey to create the products the industry needs. Stick around to find out what we've got next and drop by the site at https://lsfab.com/ to sign up to get our newsletter. You can also contact us at 1 (587) 840-5190 and let us collaborate on your new truck ideas and deliver the custom parts your 47-53 Chevy Classic deserves.